V

ON

M

ORR

D

OBERMANS
Margaret E. Morrison
---

---

Von Morr History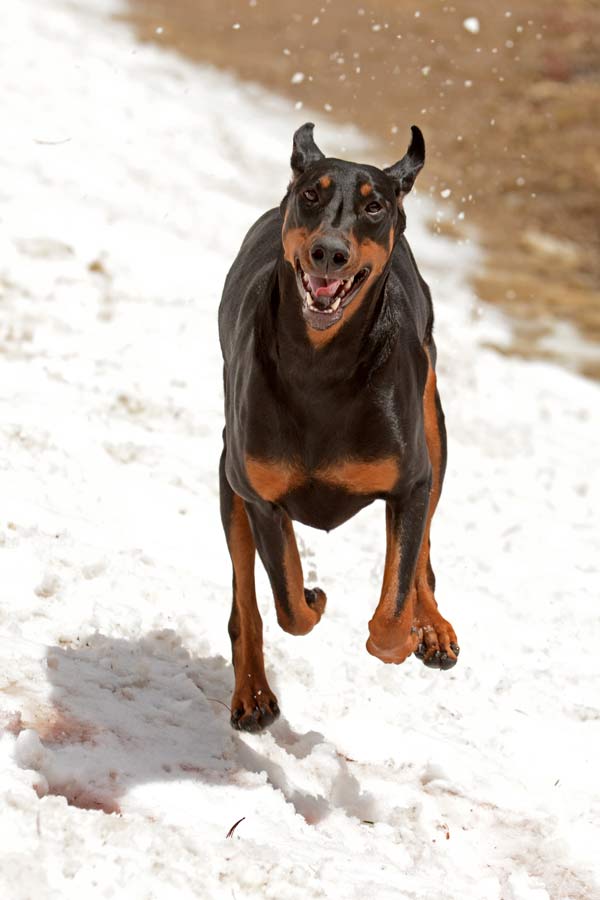 Growing up on the farm in northern Ohio, we always had big, coated, outside dogs. I loved my big dogs.
Doberman Pinschers began for me with a trip to visit my college roommate in Toledo. When we arrived and she instructed me to "Go on in," there was no way I intended to pass those two Dobermans—I had heard all the stories! However, they won me over that weekend and I decided the Dobe would be my dog when I was finished with school. I wanted a big, indoor dog!
True to this decision, in 1970 I called my former roommate and found her dogs were from Bill Haines' Checkmate Kennels. When I contacted Bill he had one six-month-old bitch from a breeding with his Ch. Balmoral Bonnett of Norloch, a bitch that produced champions in every litter from all different sires, and Sharlene Hanson's Ch. The Maestro's Reflection. This terribly shy puppy turned out to be the lovely, showy, outgoing Checkmates Edeldame—"Connie"—my foundation dam. She gathered 8 points, including a 4 point major with anybody I could find at ringside to show her. She had her first litter at 2 ½, & did not finish due to my noviceness. This was a time when there would frequently be a 60-100 or more Doberman entry at the bigger shows.
During the time I was showing "Connie", Ted Link (Tedell Kennels) leased "Bonnie" and bred her to Ch. Silvae Nigra Sidus V Ted'L, which produced the Castle litter—Tedell Limerick Castle. "Rickie", just one year younger than his half-sister, "Connie", became my foundation sire and was one of those prepotent dogs, strong on body, bone & head type. My first litter, in 1973, saw Thorin Von Morr being placed with Janice Patten; go on to be BIS Ch. Thorin Von Morr, competing in the DPCA Top 20 two years running. In addition to BIS, he had several BISS wins and more than 25 BB. Also shown from that litter was Ch. Balin Von Morr. These were the only 2 dogs that were ever shown from this litter.
Through the years that followed I produced 2 more litters for two more champions. Ch. Moria Von Morr, CD ROM (a repeat of my first litter), was owned by Leah Lapcevic/Lange. Ch. Neva Von Morr, out of Misty, a sister to Balin & Thorin, bred to Ch. Tedell Indulto V Ri-Jan's, was owned by Glenna & Ron Chidester. Pam DeHetre showed, finished & specialed all of the early Von Morr dogs.
Balin was bred on a very limited basis but produced puppies that had much promise, both in line breedings and outcrosses. He was what I believed to be a prototype of the Doberman and was capable of producing that. How great it would be to retain access to him genetically!
By the time Balin was 9, AKC was recognizing puppies from frozen semen and I decided that was for us. I researched all 5 semen banks that Frank Grover sent as being acceptable to AKC & decided on ICSB, at that time in College Station (Houston), Texas. I was most impressed with ICSB founder Carrol Platz, Jr.
When Balin was 10 we went to Houston and had him collected. The success rate for puppies from older dogs' frozen semen was not great at the time, but I decided it was well worth the genetic potential. Balin is the oldest champion Doberman available from frozen semen.
Two years later Balin was gone and his semen was only used twice in the 3 years following, with no puppies being produced. Neither bitch had puppies when bred conventionally, either.
For 7 years or so I did not do much breeding, watching the Doberman go from 63rd in popularity to 2nd! Also, I was busy finishing my Masters and did not have a lot of time for babies.
In 1988, Carol Stebelton (Silvae Nigra Kennels) sent me Silvae Nigra Leigh Von Morr. She was bred to Balin twice here in Ohio, as Robert Hutchison, DVM, had opened a branch of ICSB here. Since Balin's original collection the technology had improved and I got puppies from both breedings. It was so very exciting to be able to go back to my first pedigree.
Ariel Von Morr from this breeding was bred to Ch. Knotty Pine's Kellogg & produced 5 champions, one of whom was Ch. Miriel Von Morr, owned by Leah Lange. I leased Miriel and bred her to Cactus Cash. This produced Ch. Carly Von Morr & Ch. Alex Von Morr. Eventually I was able to breed Carly back to Balin and have continued my line from there.
It has been wonderful to see what can be produced blending the old and the new bloodlines. I currently have 4 sires available from frozen semen, starting with Balin, and am looking forward to weaving those genes in to my pedigrees from time to time. I currently have a litter of 7 from Aratar, a Kellogg son and Zima, a Balin granddaughter. It looks great on paper.
In 2012 I purchased a puppy dog from Sharon Duval, now GCH Kettle Cove N Ashtrick Give Thanks For Sheyne, CGCA. He is the first dog I have purchased since 1971. He has been a great dog to live with and has done well in the ring, finishing his championship from the 6-9 class with 4 majors. He is the only stud dog residing here at Von Morr.
The years in Dobermans have been great. I love the Doberman temperament and working and training with my dogs. I have had many good times at shows and just had a second place in a barn hunt with my youngest, Roux Von Morr, out of Alex & Zima.
I have met a lot of interesting people, including some of the top breeders when I got started. That would include Tess Henseler, Betsy Thomas, Ted Link, Bill Haines, Pat & Judy Doniere, Sharlene Hanson, and many others.
I have worked hard over the years to raise healthy puppies and place them in the best homes I can find. I have spent a lot of time planning litters and Von Morr is proud of the health and longevity of dogs produced here. Visitors are welcome any time!